Title – One Indian Girl
Author – Chetan Bhagat
Published on – 1st October 2016
Publisher – Rupa Publications
Genre – Fiction, Romance, Narrative
Rating – 4.5 out of 5
About the Author:
Chetan Prakash Bhagat is one of the most popular writers and columnists in India. You must have heard about various movies whose plots are inculpated from his books: Five points someone (2004), The 3 mistakes of my life (2008), Half girlfriend (2014) are few of them.
Coming back to the novel One Indian Girl, it narrates the story of Radhika Mehta who is an investment banker at the Distressed debt group of Goldman Sachs. Moreover, she is judged by society as has slept around, makes tons of money, and had weed with her fiancee a night before her wedding. Radhika is an introvert, studious, and unfashionable girl.
The story of One Indian Girl starts with the description of Radhika doing arrangements for her marriage with Brijesh Gulati. At last, the novel ends with the slight charming attraction between Radhika and Brijesh. She takes a step forward after having a drama on her wedding day to have the guts to live her life on her own terms. She is having a typical Punjabi destination wedding in Goa.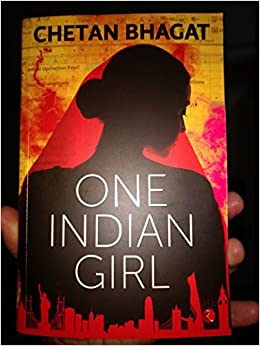 Minimal Spoiler
On the first page of One Indian Girl, she said bold statement as: "Let me warn you. You may not like me too much. One, I make a lot of money. Two, I have an opinion on everything. Three if I was a guy, you would be okay with all of this. But since I am a girl, these three things don't really make me likable, do they? There are 2 other characters Debashish Sen (Bengali boy) and Neel (her boss), both are ex-boyfriend of Radhika. They both showed up in Goa to propose her in Goa. She got her heart broke by Debashish (Debu) and the second time she was in love with a married man Neel who has 2 kids.
The whole book revolves around her personal and professional life and balance in between. On the other hand, it also depicts the Indian mindset about a women's salary, restrictions on her on every step of life from the society.
Why this book One Indian Girl?
I picked this book because it attracted me by its title "One Indian Girl". It's also different in the way that it narrates the story from a woman's point of view. This tale strongly points to the fact that men are sacred to practical and ambitious women.
The lines from the book which I found fascinating:
"If it is too good to be true, it probably is too good to be true.
"Some problems in the world seem to exist solely for women. Like not having anything to wear."
I recommend the book One Indian Girl to those who want to know about a girl's perception, emotions in the Indian context, and even to those who ruthlessly question females based on how much they earn. Why only women have to choose between home and career?
Read other book reviews: