You must be aware of the fact that how big social media is. It is growing faster than anything else in the history of the world is. It is only in the first ten years of its existence, the internet managed to gather roughly 1 billion users. Besides, today it is growing at such a rapid pace that now Facebook can be called a whole country of its own. This goes justifies why social media marketing is the go-to marketing technique for everyone.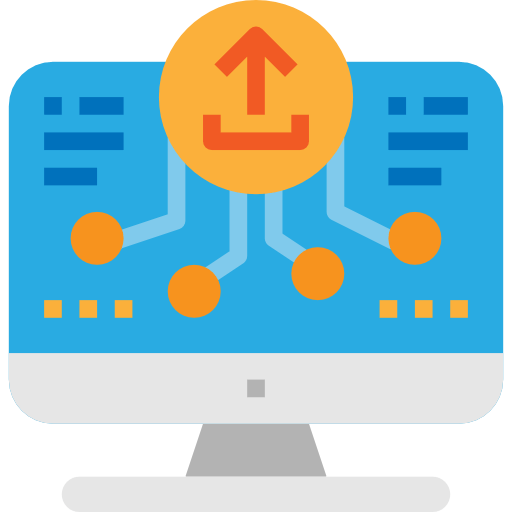 It is larger than any other country and of course more connected having no boundaries. It's because people are connected to their phones but not to their real lives. They use social media platforms each day. People are getting connected to their phones and obsessing over it.
But if social media marketing is used in the right way with a social media strategy, you can learn, make wonders, and rank yourself on the top list. So, let us get started!
What Is Social Media Marketing?
Social media marketing is the process of creating valuable content for the promotion of your business and products on different social media platforms such as Instagram, Twitter, Snapchat, Pinterest, LinkedIn, and Facebook. Your content should be unique enough that the audience gets attracted to it and share it, which in turn will help you to increase your brand awareness.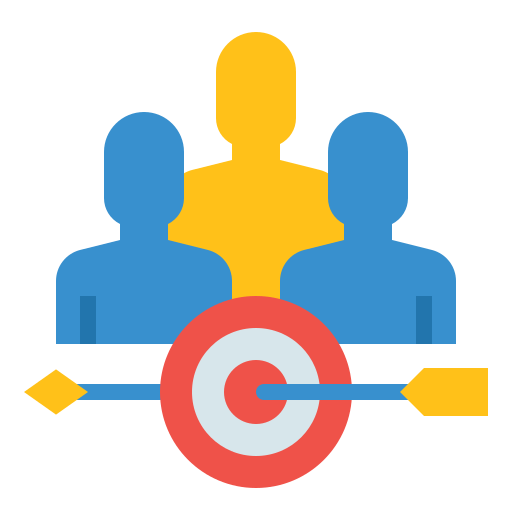 It is all about getting to know about your target audience and socially interact with them to create product awareness. As a whole, it is the most valuable thing and when combined with the strategies according to the different platforms it can make you touch the sky.
Why Social Media Marketing is Important?
There are many reasons that your organization should use social media marketing. Here is the list of the benefits your company can get.
1. Increases Product Awareness :
Due to the increasing number of people on social media, you can understand why sharing content related to your brand and the details about your organization through a platform like social media has the potential to improve your product awareness.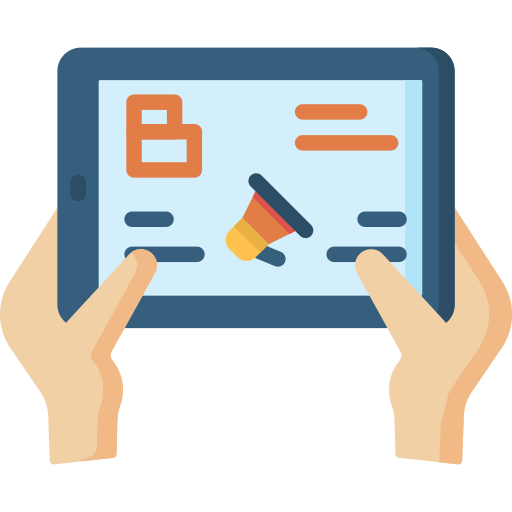 Social media is a great tool to uplift the image of your brand by involving a lot of engagement on the page. Online engagement includes comments, shares, posts, and re-posts. Social media also assists in increasing product awareness by driving traffic to your website through the use of two methods:
Organic social media marketing
Paid social media marketing
2. Generate Leads:
advertising your brand on your social media is an easy way for the generation of the leads. This leads to an increase in the sales as you are promoting to the audience who have opted to become your customers by following your social media account.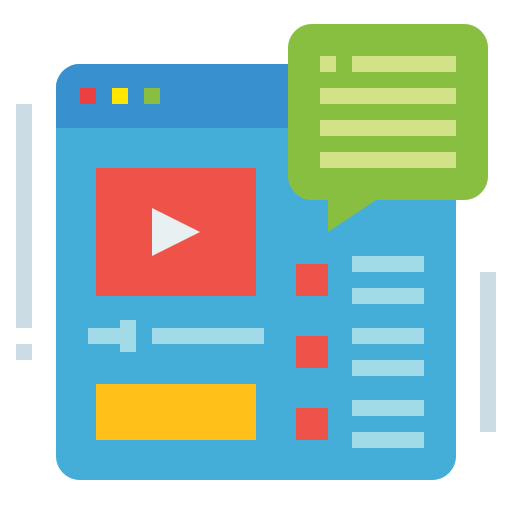 You can use the following ways on social media to generate more and more leads to your site:
create contests for the visitors and audience on your page so that they participate and get connected to your social media profile.
Add the link of your website in the bio section of your social media profile.
Conduct live videos to make huge announcements and create your product awareness amongst the audience. Provide them with the details of the product or exciting news about your organization.
3. Connect yourselves with your Customers
Try to engage as much as you can with your social media followers to build a good relationship between them and your business. You can do this by answering their questions through messages, replying to their comments, and provide them assistance with any help they may require.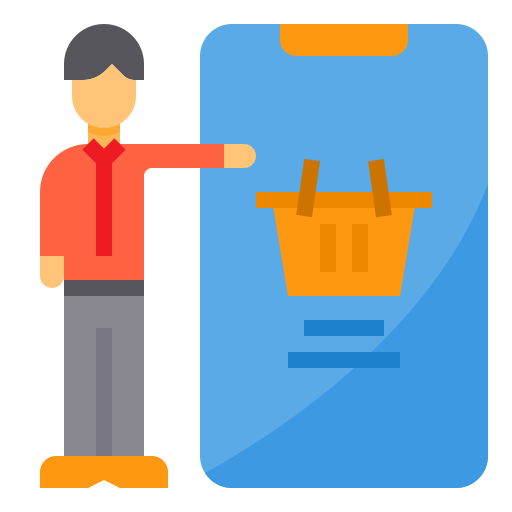 You can also ask your social media followers questions and suggestions about your products or create giveaways to build trust in the relationship and show how much you value their support.
4. Learn from your Competitors
Social media platforms are a great way to use your competitors as your mentors and learn from them. You may also have a look at the products they are promoting, the campaigns they are conducting, or their level of interaction with their followers.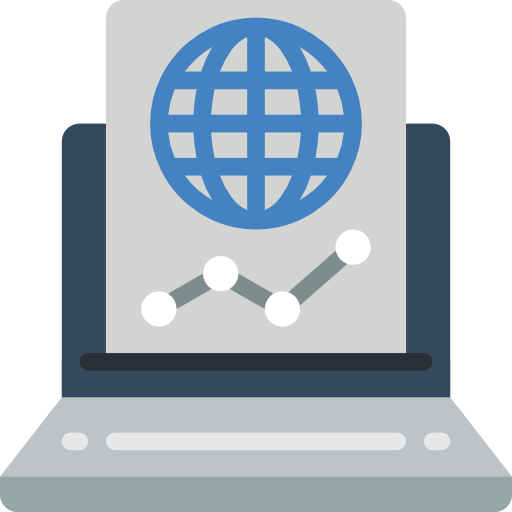 This platform helps you in understanding that what kind of techniques work for your competition and will help you in deciding what you should or should not modify in terms of your company's approach. Reviewing your competitor's social profile can help you make sure that your brand and your products stand out in the market.
Social Media Marketing Strategy
1. Research about your Buyer's Preference
The first major step to create a social media marketing strategy is to have complete knowledge about your buyer's needs and preferences. You should be able to determine what your audience has an interest in. to do this you should be able to answer why you are reaching your target audience.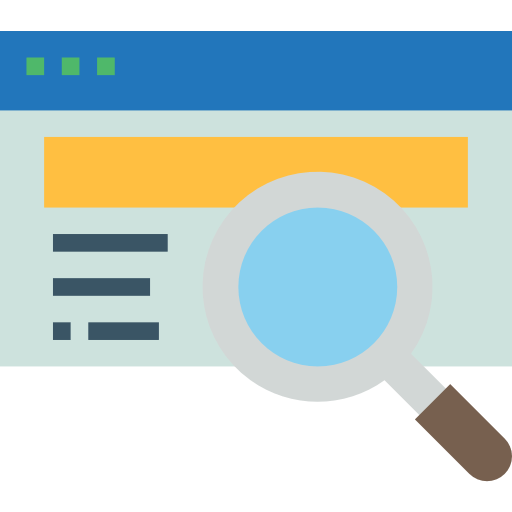 By considering your potential customers, you will be able to figure out what type of product will attract that type of audience and how you create interesting content to keep your customers engaged.
2. Decide on which Social Media Platform you will share Content
You need to determine that on which social media platform you will use to market your brand. Social media marketing is done according to the target audience and each platform has a different kind of audience. There is never a right or a wrong answer to this point.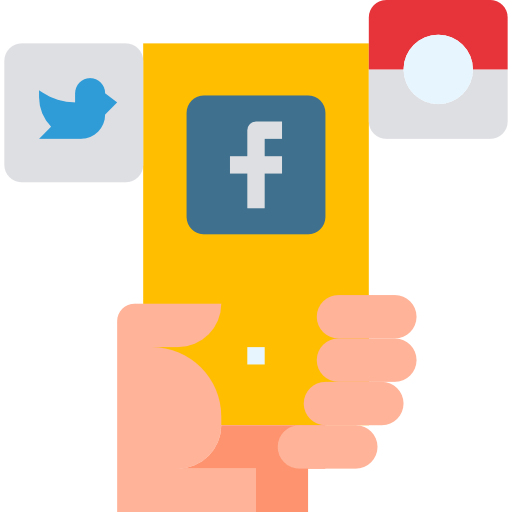 You can choose any platform but it all depends on the need of your customers and target audience and where they are most likely to spend their time. It's important to use the same platform your audience uses today and will be using tomorrow.
3. Create Interesting Content
With social media being a different country in itself with so many people living in it, there is no doubt that at least some of your customers or your followers or the people who are just browsing your social site have also have had a look at your competitor's content.
This is the reason that you must create unique content and have an engaging social media site that is interesting that any other business in the industry which will make them hit the 'follow' button.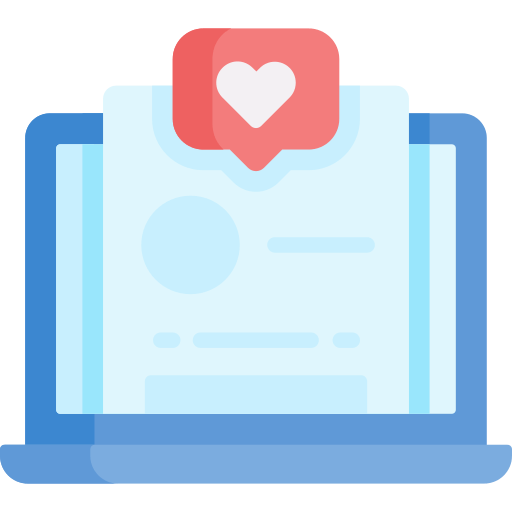 To be unique and create content that attracts the audience you need to consider your competitor's content and then identify how uniquely you can promote your advertising your brand. For example, you can create online contests on your social media platform to make your audience aware and excited about your new product launch.
You can also ask your current customers to help you in promoting by using posting pictures on their stories with your product so that you can re-post them and ask them to use your product's hashtag.
4. Analyze your Results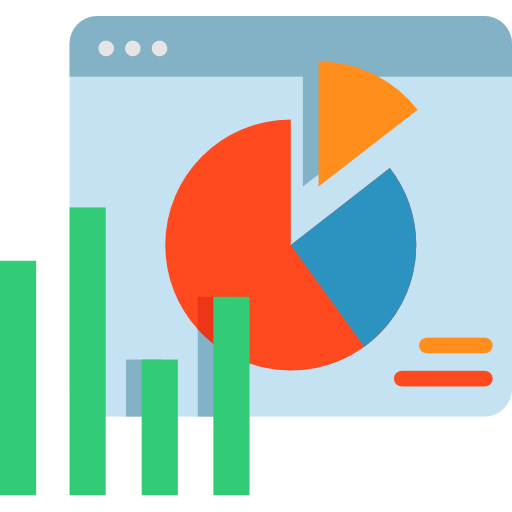 You must analyze your growth on your social media platform by ensuring that your hard work is successful in helping you meet your desired goals. The best way to run a successful social media marketing campaign is to check the stats of the reach and responses you're getting. For this, you need to analyze all your posts, on every social platform. You can do this by tracking social media metrics.
Social Media Metrics
Social media metrics are the data that is related to your posts and the impact it creates on your target audience on various social media platforms. These metrics include information about your level of likes, shares, follows, and engagement with your customers. you can influence these social media metrics and increase your brand following.
Here is a list of the 10 most important metrics that you should track: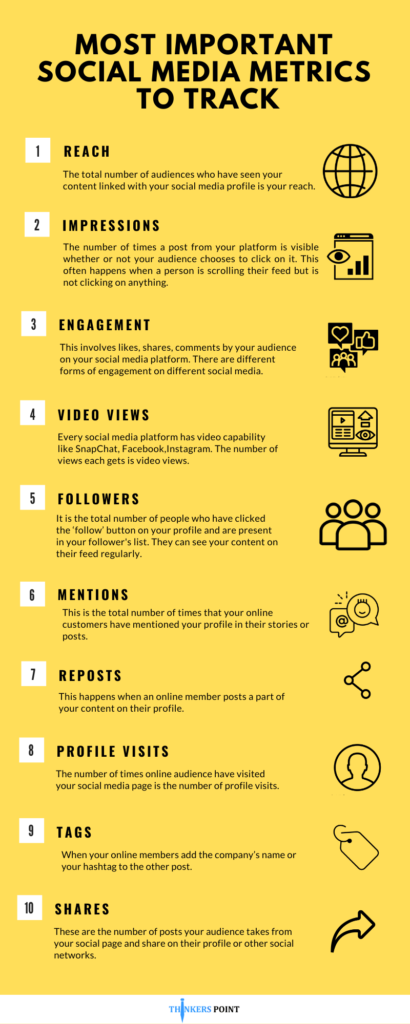 Reach
The total number of audiences who have seen your content linked with your social media profile is your reach. They engage with your profile through likes, comments, and shares.
Impressions
The number of times a post from your platform is visible whether or not your audience chooses to click on it. This often happens when a person is scrolling their feed but is not clicking on anything.
Engagement
This involves likes, shares, comments by your audience on your social media platform. There are different forms of engagement on different social media. For example, 'saved' posts are a type of engagement on Instagram, and on Pinterest, it is the 'pinned' posts.
Video Views
Every social media platform has video capability like Snapchat, Facebook, Instagram. The number of views each gets is video views.
Followers
It is the total number of people who have clicked the 'follow' button on your profile and are present in your follower's list. They can see your content on their feed regularly.
Mention
This is the total number of times that your online customers have mentioned your profile in their stories or posts.
Re-post
This happens when an online member posts a part of your content on their profile.
Profile Visits
The number of times online audience have visited your social media page is the number of profile visits.
Tags
When your online members add the company's name or your hashtag to the other post.
Shares
These are the number of posts your audience takes from your social page and share on their profile or other social networks.
Conclusion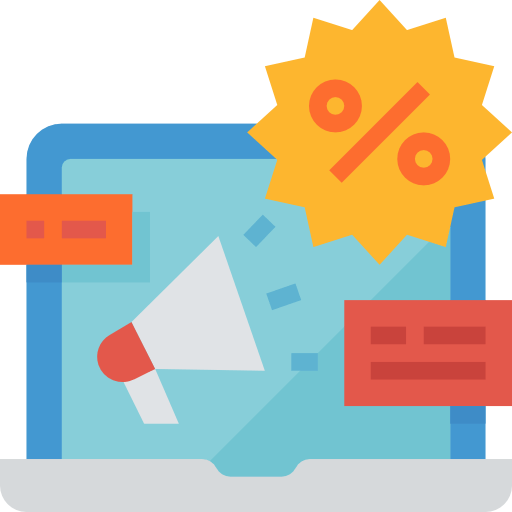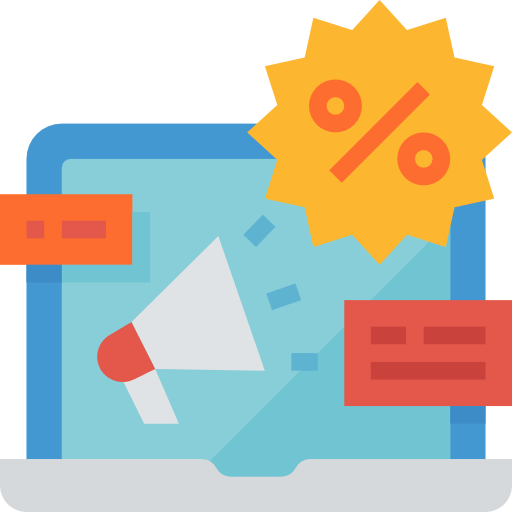 Taking into account that there are billions of social media users, it is understandable why so many businesses and marketers make use of these online channels to create product awareness and increase engagement. So don't wait, establish your social media presence, find your audience, and get active on your platform. Use these strategies and make your mark.
Frequently Asked Questions
Q-1. What is Organic Social Media Marketing?
Ans. Organic social media marketing takes place on social media when there is no paid promotion. When you post on the page and do not include any money to 'boost' the post, then you are practicing organic social media marketing. Organic posts do not include any advertisements. For example: getting organic leads to your page to create product awareness.
Q-2 What is paid Social Media Marketing?
Ans. Paid social media marketing takes place when you display advertisements or sponsor marketing messages on your social media marketing platform to target a specific audience. For example, pay-per-click advertising, display advertisements, and influencer generated content.
Q-3. How often should you post on Social Media?
Ans. This is a question that arises in the minds of every social media marketer. As a rule of thumb, post only when you have some 'quality' content to share on your social media. You should know the reason for your postings. you should also take care that you post your content frequently. Not that frequent that it annoys your followers and if you get into a habit of posting your content infrequently, you will be forgotten by your followers. So you must strike a balance. You must also keep in check that posting at what time of the day brings you the maximum engagement.